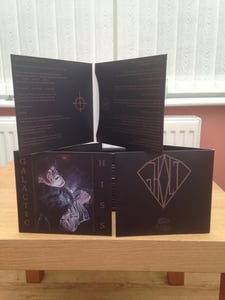 £

4.00 - On Sale
This EP can be picked up from the band directly at shows.
Hailing from London, GHOLD, formed in early 2012 with the soul purpose of creating the darkest, prog-fuelled riffery possible and they don't disappoint.
http://www.baitinthetraprecords.bandcamp.com
Here we have 3 tracks of crushing bass riffs and hypnotic drums. This weight and grunt power duo come at you with just under 30 minutes worth of filthy sludge groove.
Not to be missed this EP will be limited to 250 CD's in a lovely matte finish gatefold style sleeve. Smashing little package from a smashing band.
CD's produced by DiscWizards
Recorded at Bear Bites Horse Studios, London
GHOLD are making music with nary a fuck given. Get into this, zone out, let your eyes roll back into your head. Like what you hear? Hit them up on the sociable networking products below.
http://www.ghold.co.uk
https://www.facebook.com/gholdband
https://twitter.com/gholdband
http://gholdband.tumblr.com/